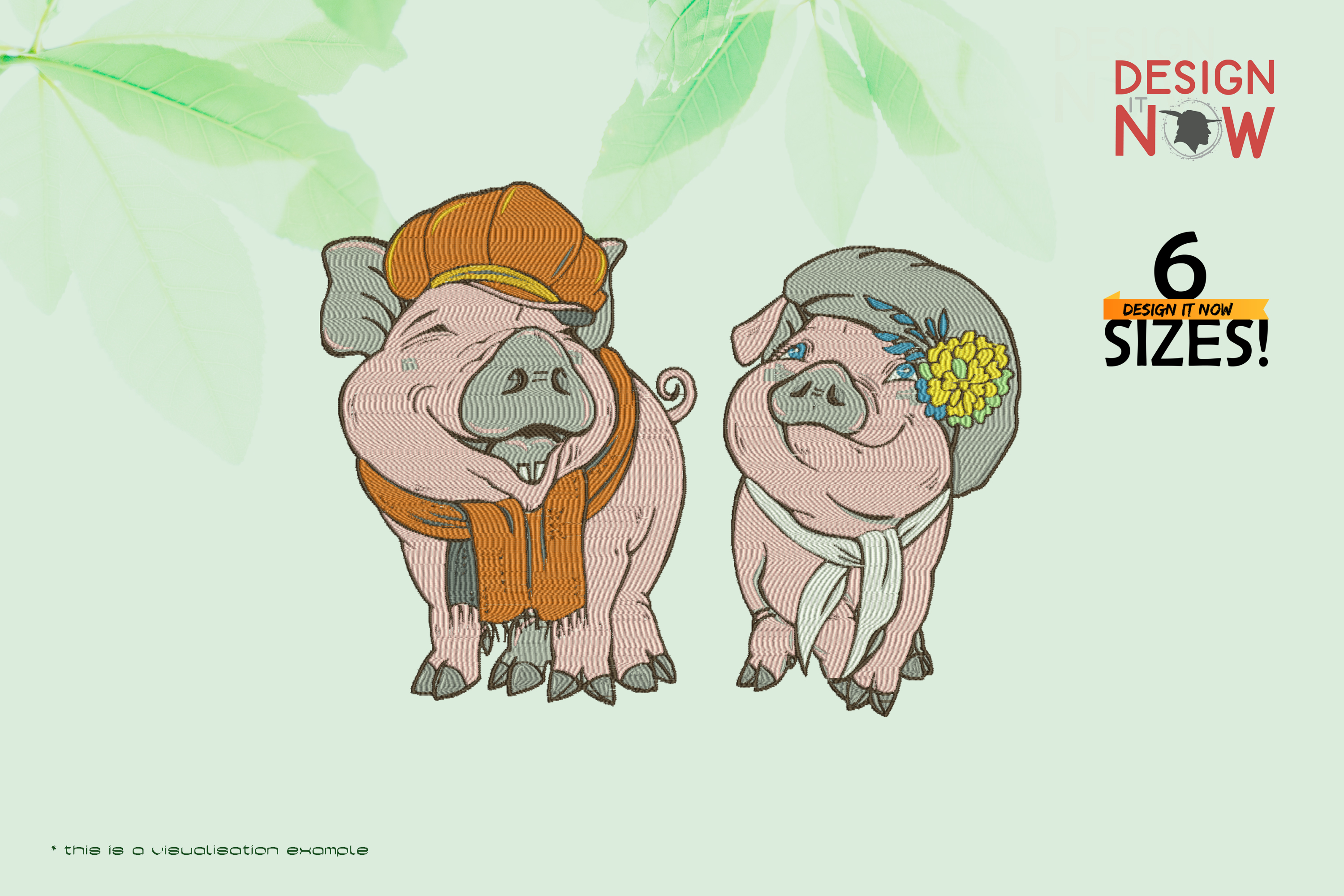 US$1.10*
%
US$4.40*
(75% saved)
Product information "Pig Couple-Happy Mr Mrs Pork"
The domestic pig (lat. Sus scrofa domesticus) is the domesticated form of the wild boar and forms a single species with it. It thus belongs to the family of the true pigs from the order of the cloven-hoofed animals. In some parts of the world, there are free-ranging populations of pigs that evolved from feral domestic pigs. Pigs are omnivores; they eat both animal and plant foods.

The domestic pig is one of the earliest domesticated domestic animals in the history of human civilization and has been kept for meat production for probably 9000 years. In Europe and East Asia, pork is the most commonly eaten meat. Domestication occurred independently in different regions of the world. Pigs tend to be considered dirty.

However, research shows that pigs kept in sufficiently spacious barns generally use a corner as a defecation area. Their wallowing in wet mud is an innate behavior that serves to cleanse them, lower their body temperature in high temperatures, and protect them from sunburn. Pigs do not have sweat glands.
Research on pig cognitive abilities at Pennsylvania State University has shown that pigs can perform recognition tasks very well using a joystick in their mouths on a monitor. It is believed that their cognitive abilities are quite comparable to those of some primates. There are repeated reports of pigs showing comparatively high intelligence. Already for the Germanic peoples especially the boar was a sacred animal. The chariot of the god Freyr is pulled by the boar Gullinborsti.

The pig is a sign of prosperity and wealth, as it is considered a symbol of fertility and strength. As a good luck charm, it has persisted in Germany to this day. "To have a pig" is a figure of speech and means "to be lucky". In Chinese astrology, the pig is an earth branch symbol. In his honor, among other things, the Saha Chat monument was erected in Bangkok, Thailand.

Product Number:
N08154

Product Name:
Pig

This design comes with the following sizes:
Size: 9.13"(w) X 6.96"(h) (231.8mm X 176.8mm)
Size: 9.20"(w) X 7.02"(h) (233.8mm X 178.4mm)
Size: 9.32"(w) X 7.11"(h) (236.8mm X 180.6mm)
Size: 9.40"(w) X 7.17"(h) (238.8mm X 182.2mm)
Size: 9.44"(w) X 7.20"(h) (239.8mm X 183.0mm)
Size: 10.23"(w) X 7.80"(h) (259.8mm X 198.2mm)

The following formats are included in the file you will receive: .DST .EXP .JEF .PES .VP3 .XXX .PEC .U01
You MUST have an embroidery machine and the software needed to transfer it from your computer to the machine to use this file. This listing is for the machine file only - not a finished item.

Pig Machine Embroidery Design, Pork Embroidery Pattern, Swine Design, Embroidery Art, DIY Project Idea, Unique Digital Supplies For Embroidery Machines