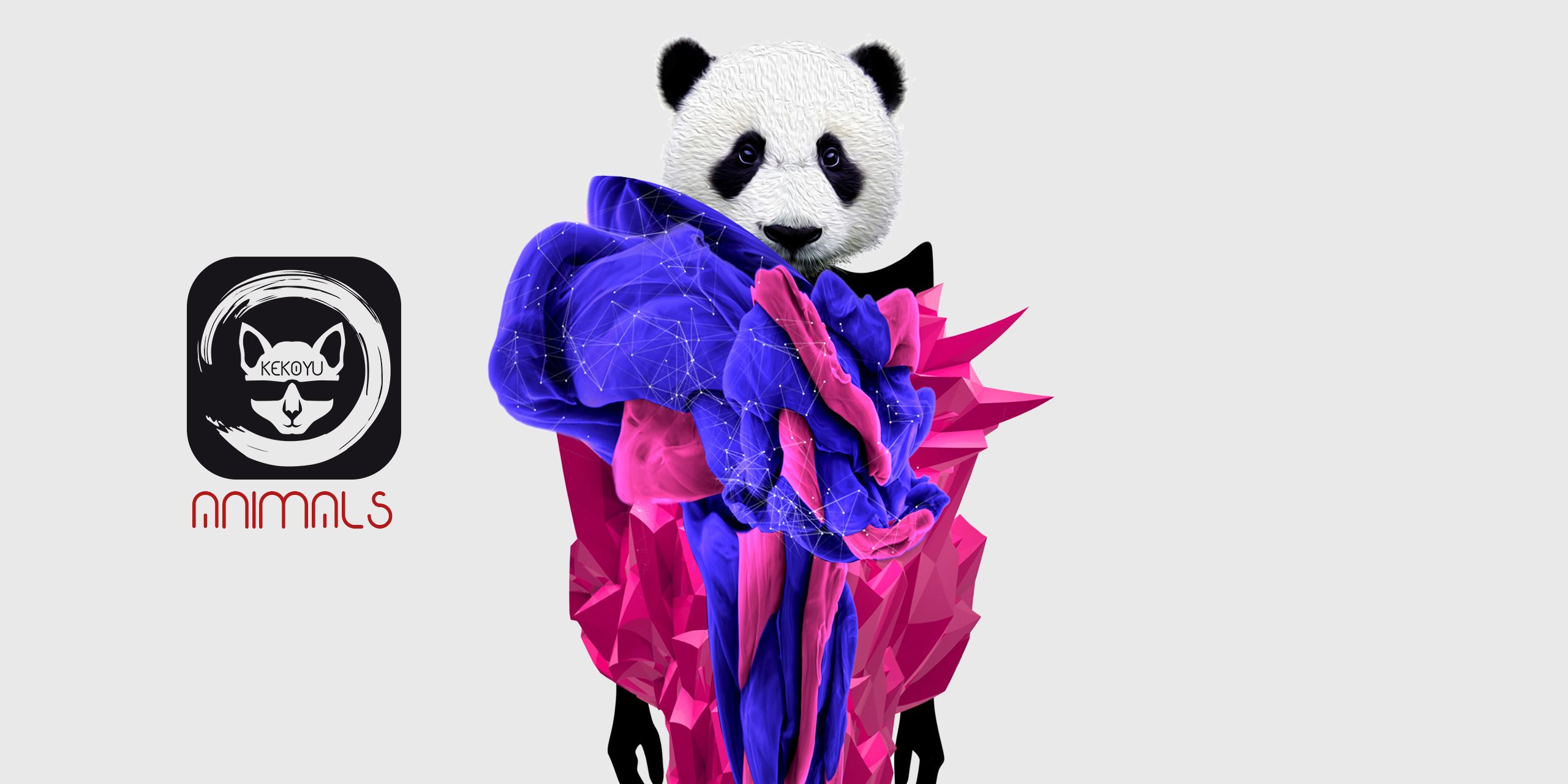 PANDA
THE WORLD OF ANIMAL FRIENDS
The giant panda (Ailuropoda melanoleuca), also known as the giant panda or panda bear, is a species of mammal from the bear family (Ursidae). As a symbol of the WWF and sometimes also of species conservation in general, it has gained worldwide fame despite its very limited range. In older German literature, the giant panda is also called the bamboo bear or pawed bear. The bear's endangerment status was lowered from endangered to vulnerable by the IUCN in 2016, as populations are currently recovering somewhat. According to estimates based on the latest official census, there are over 2,000 pandas living in the wild, as at least 1,864 pandas were counted in the wild in 2015.

Giant pandas reach a head trunk length of 120 to 150 centimetres, and the tail, like all bears, is only a stub about 12 centimetres long. The weight of adult animals varies from 75 to 160 kilograms. Giant pandas are largely similar in build to other bears, but stand out for their contrasting black and white colouring.

The basic colour of their dense, woolly fur is white, the legs are black. The black of the front legs continues over the shoulders, forming a belt that mostly encircles the front body. The ears, the area around the eyes and sometimes the tip of the tail are also black.In contrast, the population in the Qinling Mountains, which was recognised as the first official subspecies in 2005, is characterised by a brown and white colouration.


The reasons for the striking colouration are not exactly known. There are discussions about deterrence of enemies, better thermoregulation or camouflage.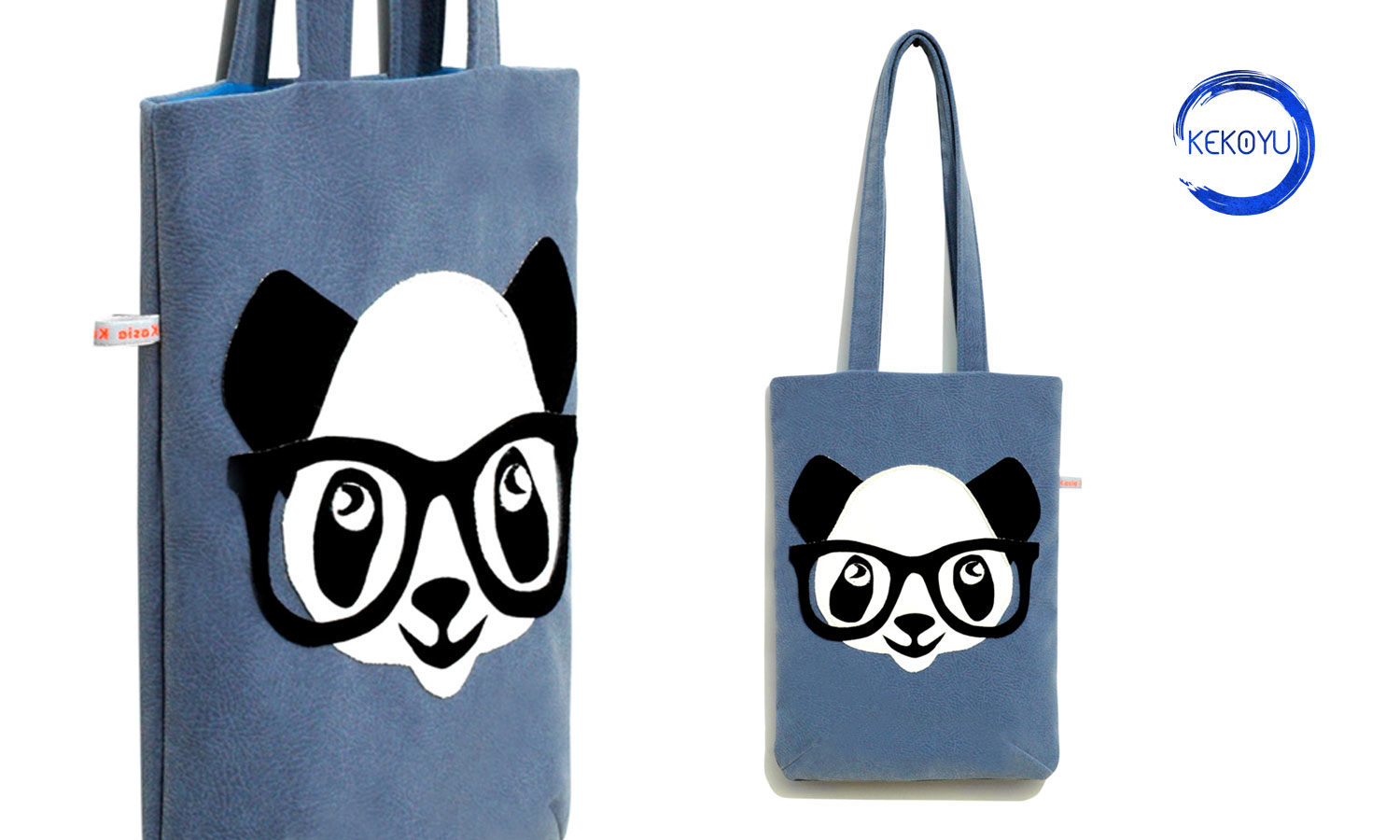 Mr Panda Tote Bag
The giant panda (Ailuropoda melanoleuca), also known as the giant panda or panda bear, is a species of mammal from the bear family (Ursidae). As a symbol of the WWF and sometimes also of species conservation in general, it has gained worldwide fame despite its very limited range. In older German literature, the giant panda is also called the bamboo bear or pawed bear. The bear's endangerment status was lowered from endangered to vulnerable by the IUCN in 2016, as populations are currently recovering somewhat. According to estimates based on the latest official census, there are over 2,000 pandas living in the wild, as at least 1,864 pandas were counted in the wild in 2015.Giant pandas reach a head trunk length of 120 to 150 centimetres, and the tail, like all bears, is only a stub about 12 centimetres long. The weight of adult animals varies from 75 to 160 kilograms. Giant pandas are largely similar in build to other bears, but stand out for their contrasting black and white colouring. The basic colour of their dense, woolly fur is white, the legs are black. The black of the front legs continues over the shoulders, forming a belt that mostly encircles the front body. The ears, the area around the eyes and sometimes the tip of the tail are also black.In contrast, the population in the Qinling Mountains, which was recognised as the first official subspecies in 2005, is characterised by a brown and white colouration. The reasons for the striking colouration are not exactly known. There are discussions about deterrence of enemies, better thermoregulation or camouflage.A tote bag is used for the combined transport of smaller goods. For carrying, there are often carrying straps or recesses through which a hand fits. The most common are tote bags made of welded plastic films, the plastic bags. These are predominantly provided with marketing imprints in the form of advertising. In addition, tote bags made of textile fabric or paper are also common, occasionally also net carrier bags. For the transport of heavy goods, bags reinforced with fibres are common. Tote bags are mostly printed for advertising purposes. For this purpose, the offset or flexo printing process is mainly used for paper carrier bags. Plastic tote bags are printed using the flexographic printing process and tote bags made of cotton are printed using the screen printing process.PRODUCT: Made To Order Handmade ItemPRODUCT NUMBER: T00039ANIMAL FRIEND: PandaMAGICAL TASK: The Panda awakens the dreams to life.Mr Panda as a tote bag in a nice format. It consists of a stable velour fabric with a peachy soft and leather-like patterned surface. Inside is Mr.Panda lined and has a drawer made of leather for stationery and suchlike. The practical size of Mr.Panda allows the transport of an iPad Pro, MacBook 12" or the MacBook Air 13". Sporty, elegant and smart and as always from Kekoyu: real and unique.MATERIALS: Velour Fabric, Cotton, PESDIMENSIONS: Total length: about max. 64 cm / Bag without handle: about 27 cm x 36 cm x 3 cmPLEASE NOTE: The pictures shown functions as an example. The item is made to order a unique specimen handmade. Due to the unique handmade nature, slight deviations can occur and are expressions of and signs for the uniqueness of the item and underline the originality.Mr Panda Laptop Tablet Tote Bag, Kekoyu Animal Friends Handbag Collection, Unique Shopper Bag, Ladies Laptop Bag, Bags For Woman, Big Bags, Ladies Handbag, Handmade With Love, Shoulder Bag, Casual Tote Bag, Unique Handcrafted Manufacture Piece, Manufacturing Company, Handmade GiftsCONNECT WITH NATURE SPIRIT The World Of Animal Friends
US$86.99*

US$347.96*

(75% saved)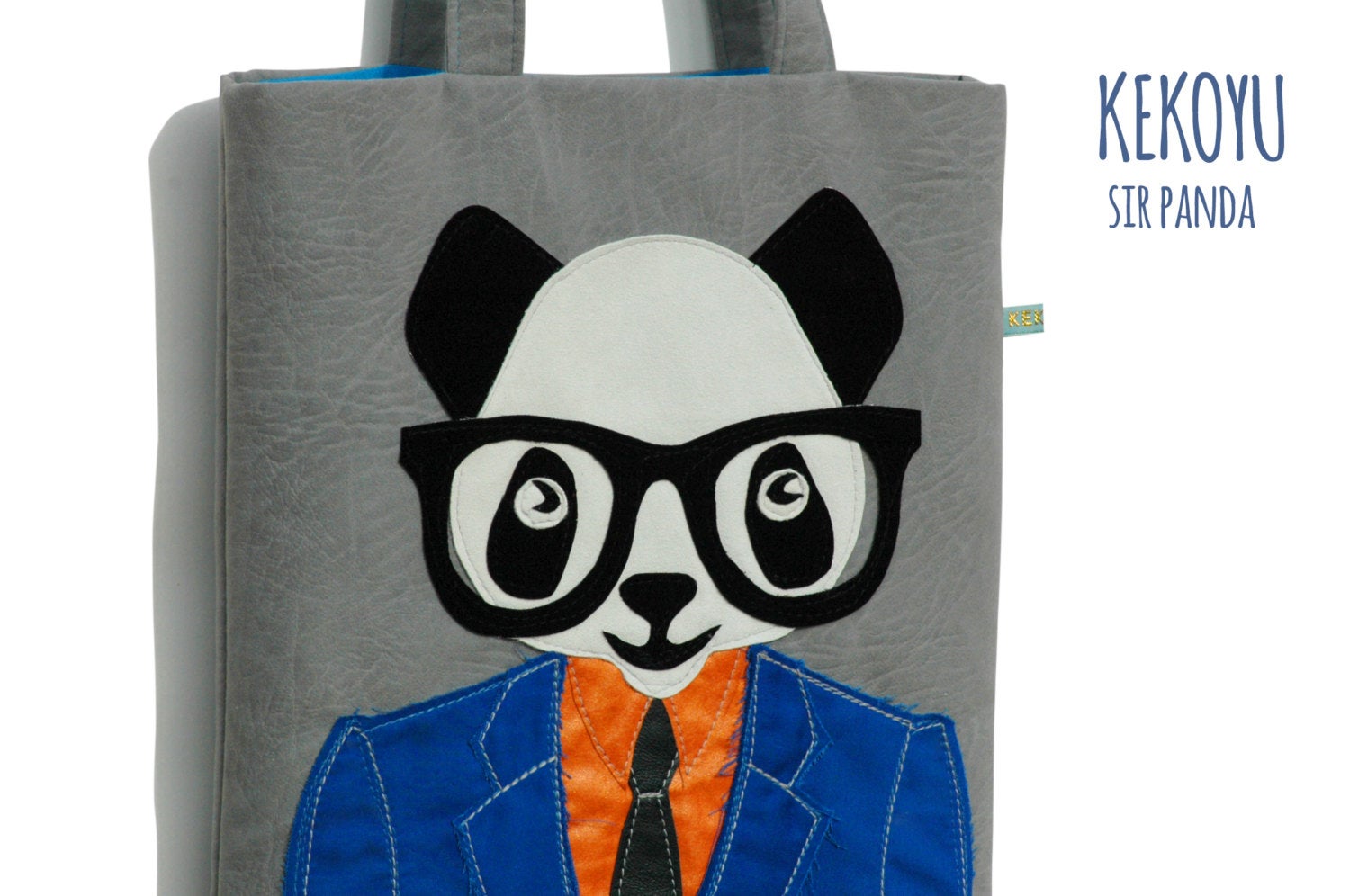 Sir Panda Tote Bag
The giant panda (Ailuropoda melanoleuca), also known as the giant panda or panda bear, is a species of mammal from the bear family (Ursidae). As a symbol of the WWF and sometimes also of species conservation in general, it has gained worldwide fame despite its very limited range. In older German literature, the giant panda is also called the bamboo bear or pawed bear. The bear's endangerment status was lowered from endangered to vulnerable by the IUCN in 2016, as populations are currently recovering somewhat. According to estimates based on the latest official census, there are over 2,000 pandas living in the wild, as at least 1,864 pandas were counted in the wild in 2015.Giant pandas reach a head trunk length of 120 to 150 centimetres, and the tail, like all bears, is only a stub about 12 centimetres long. The weight of adult animals varies from 75 to 160 kilograms. Giant pandas are largely similar in build to other bears, but stand out for their contrasting black and white colouring. The basic colour of their dense, woolly fur is white, the legs are black. The black of the front legs continues over the shoulders, forming a belt that mostly encircles the front body. The ears, the area around the eyes and sometimes the tip of the tail are also black.In contrast, the population in the Qinling Mountains, which was recognised as the first official subspecies in 2005, is characterised by a brown and white colouration. The reasons for the striking colouration are not exactly known. There are discussions about deterrence of enemies, better thermoregulation or camouflage.A tote bag is used for the combined transport of smaller goods. For carrying, there are often carrying straps or recesses through which a hand fits. The most common are tote bags made of welded plastic films, the plastic bags. These are predominantly provided with marketing imprints in the form of advertising. In addition, tote bags made of textile fabric or paper are also common, occasionally also net carrier bags. For the transport of heavy goods, bags reinforced with fibres are common. Tote bags are mostly printed for advertising purposes. For this purpose, the offset or flexo printing process is mainly used for paper carrier bags. Plastic tote bags are printed using the flexographic printing process and tote bags made of cotton are printed using the screen printing process.PRODUCT: Made To Order Handmade ItemPRODUCT NUMBER: T00035ANIMAL FRIEND: PandaMAGICAL TASK: The Panda awakens the dreams to life.Sir Panda as a "Tote bag" in a beautiful format. Sir Panda is a charming, elegant gentleman wearing an orange shirt, a black leather tie and a jacket in ultramarine. The illustration is created in a complex, freehand embroidery process. The bag is made of a very sturdy velour fabric with a soft surface in a leather-like pattern. Inside is Sir Panda lined and has a drawer made of leather to carry for example writing utensils or the like. The practical size of Sir Panda allows the transport of i.e. , a MacBook 12" or a MacBook Air 13" or a MacBook Pro 15". Extraordinary, smart and as always from Kekoyu: genuine and unique.MATERIALS: Velour Fabric, Cotton, PESDIMENSIONS: Total length: about max. 68 cm / Bag without handle: about 31 cm x 40 cm x 3 cmPLEASE NOTE: The pictures shown functions as an example. The item is made to order a unique specimen handmade. Due to the unique handmade nature, slight deviations can occur and are expressions of and signs for the uniqueness of the item and underline the originality.Sir Panda Elegant Gentleman Laptop Tablet Tote Bag, Kekoyu Animal Friends Handbag Collection, Unique Shopper Bag, Ladies Laptop Bag, Bags For Woman, Big Bags, Ladies Handbag, Handmade With Love, Shoulder Bag, Casual Tote Bag, Unique Handcrafted Manufacture Piece, Manufacturing Company, Handmade GiftsCONNECT WITH NATURE SPIRIT The World Of Animal Friends
US$94.99*

US$379.96*

(75% saved)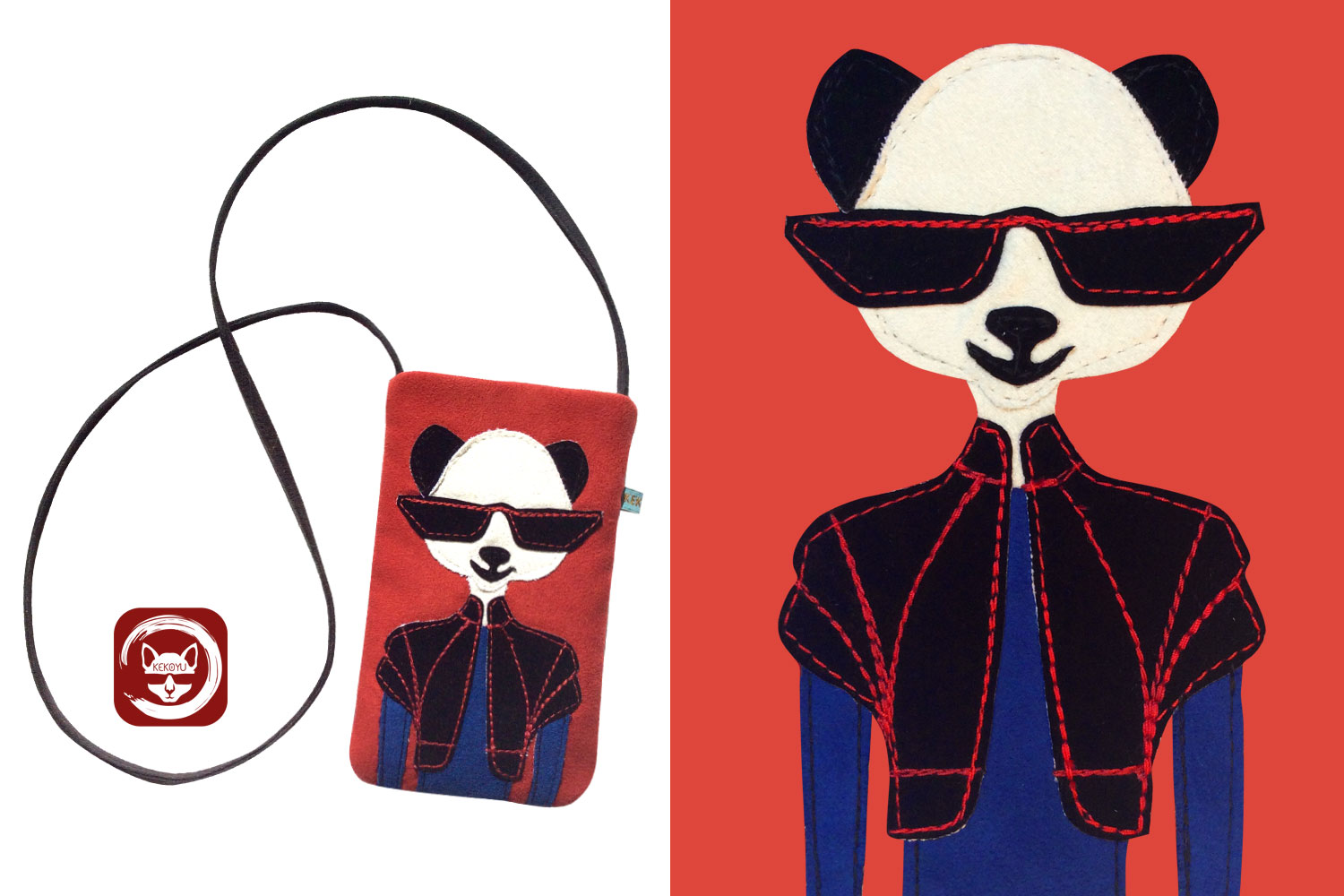 Mrs Panda Phone Crossbody
Crossbody bags these are bags with a long strap or belt so that the strap can be worn over one shoulder. There are two carrying variants: In the first variant, the strap runs from one shoulder diagonally across the chest and back, so that the actual bag is worn on the other side of the body or in the area of the diagonal in the chest or back.In the other variation of carrying a shoulder bag, the strap runs vertically parallel to one side of the body, so that the actual bag then usually dangles relatively loosely at about hip level (or higher or lower, depending on the strap length). Sports bags and travel bags are often offered as shoulder bags, but so are handbags and cotton shopping bags. Fanny packs are sometimes worn as shoulder bags instead of fanny packs.PRODUCT: Made To Order Handmade ItemPRODUCT NUMBER: T00006ANIMAL FRIEND: PandaMAGICAL TASK: The Panda awakens the dreams to life.Mrs Panda is small crossbody bag made of soft velour fabric. The shape is minimalist. Mrs Panda is lined and padded on the inside. The corners are rounded. On the front is the Mrs Panda administered by a elaborate freehand embroidery process. The loose embroidery style emphasizes the originality of this work and makes it a unique piece of textile illustration. A bag, a friend with you can be anywhere on the go.MATERIALS: Velour Fabric, Cotton, PESDIMENSIONS: Total length: about max. 64 cm / Bag without handle: about 11.5 cm x 18.3 cmPLEASE NOTE: The pictures shown functions as an example. The item is made to order a unique specimen handmade. Due to the unique handmade nature, slight deviations can occur and are expressions of and signs for the uniqueness of the item and underline the originality.Mrs Panda With Sunglasses Phone Crossbody Bag For Women, Kekoyu Animal Friends Collection, Crossbody Purse, Cross Body Handbag, Ladies Cross Body Bag, Small Crossbody Wallet Purse, Crossbody Cell Phone Purse, Shoulder Phone Crossbody Pouch, Cross Bags For Women, Mini Crossbody Bag, Phone Bag, Casual Crossbody Bag, Unique Handcrafted Manufacture PieceCONNECT WITH NATURE SPIRIT The World Of Animal Friends
US$78.49*

US$313.96*

(75% saved)